Curt Krueger, executive director of the Northeast Family Center, was touched by the tears.
Tears of joy.  Tears of relief.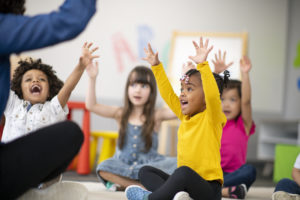 "The pandemic happened, and families got behind on child care payments through no fault of their own," he explained.  "They lost jobs, lost significant income when they were furloughed, or forced to quarantine."
But this spring, when some of the Family Center's eligible families received a check for tuition assistance for child care, their worlds changed with something new: Hope.
That's what $500,000 of bonus dollars for child care looks like at just one of the many centers receiving support from money now available through a Community Block Development Grant – funding specifically aimed at easing the impact of COVID on Lincoln families with young children.
Like other similar Lincoln child care facilities, Krueger said, the Northeast Family Center has carried some families in need throughout the pandemic.  "Yes, child care providers aim to provide loving care for kids, but we also try to be there for our families."
As a result, he explained, grant money is helping families as well as child care centers get back on track.  "What a huge gift to the whole city."
In February, the first month of the Block Grant child care program, more than $45,000 was awarded and provided help for:
17 centers.
30 families.
124 children.
"We need our families and child care centers to hear us.  There is money available to help them," says Anne Brandt, executive director of Lincoln Littles. "We know a wide breadth of families are still struggling because of the pandemic. They may have lost a job, permanently or temporarily.   They cannot cover their mortgage, groceries, utilities, let alone pay child care costs. We can help."
Currently there is still almost $455,000 in assistance available to help cover child care costs for families impacted by the pandemic. The funds – provided thanks to the city of Lincoln – can be applied to for child care costs retroactive to March of last year.  The money must be utilized by February of next year.
These funds are accessible specifically to help families who are having trouble meeting child care costs because of the pandemic, said Suzanne Schneider, coordinator of Lincoln Littles.  "But this also helps the bottom line for child care providers who have been deeply affected by the pandemic … many of whom have kept child care spots open even when families fell behind on their payments."
Undoubtedly, the pandemic shook the landscape of early child care, Schneider said.
Lincoln Littles surveyed 50 local child care centers about the impact of the pandemic and found:
The pandemic affected 1,431 families.
Centers lost an estimated $3.6 million in income.
Centers spent an estimated $291,450 on additional protective equipment.
Almost half the centers were forced to close for at least limited periods of time.
"Our child care providers have continued to show up, day after day, throughout the pandemic," Schneider said.  "This money is one way we can help both families and providers with child care costs."
A few essentials you should know:
Families must meet eligibility requirements. For example, a family of four cannot make more than $5,475 per month.
Families begin by filling out a very simple application for child care tuition.
For their families to receive these funds, child care centers (homes and centers) must be qualified early-childhood programs that participate in the state's Step-Up to Quality program.  However, Lincoln Littles has streamlined the process and will help centers get enrolled in the Quality program.
Money is channeled through Lincoln Littles, but the organization does not receive any of this money.  Funds go directly to child care providers.
"This is a perfect example of the kind of public-private partnership it will take to achieve high-quality early childhood care for all families," Brandt observed.
Krueger, at the Northeast Family Center, agreed.  "I'm not sure our community fully understands how families were impacted by the pandemic – and are still being impacted by the pandemic. The Community Block Development money will make a difference."
He sees hope ahead:  "Persistence has been getting these families through, but now this funding will help even more. Perhaps, finally, there is light at the end of the tunnel."
Lincoln Littles is a passionate network of advocates focused on ensuring all children have access to quality early childhood care and education.  The organization emerged from the community's Prosper Lincoln initiative, coordinated by the Lincoln Community Foundation.