Lincoln Littles is one of several organizations across the state to partner with the We Care for Kids campaign which launched June 15, 2022.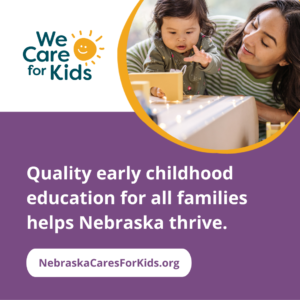 Much like Lincoln Littles' work in our local community, We Care for Kids works to ensure that all Nebraska families have access to quality early childhood education for their children. We Care for Kids provides information on the importance of quality early childhood education, the essential role it plays in helping families work while raising young children who are prepared for school and life, and what families should look for when seeking quality services. We Care for Kids also builds support for the thousands of early childhood educators who help Nebraska's economy thrive.
In Nebraska, working families rely on early childhood educators to extend the nurturing and learning that happens at home. More than three-fourths of children under age six live in homes where all adults work. Quality early childhood educators are essential for helping Nebraska thrive.
"The quality of care and education children receive in the first five years is directly impacted by the individuals providing the care," said Anne Brandt, Executive Director, Lincoln Littles. "We are currently seeing a workforce crisis in this industry primarily due to lack of pay and benefits. It is essential we develop solutions to recognize and compensate the early childhood field to retain and attract those who are passionate about this crucial work."
The initiative was created in part because of Nebraska's shortage of early childhood educators. According to We Care for Kids, "Ninety-one percent of counties in Nebraska with child care facilities do not have enough available places to meet the demand."
Nebraskacaresforkids.org serves as a collection of information for families, educators and communities.
We at Lincoln Littles look forward to working in partnership with We Care for Kids.