Lincoln's wee residents who are served at childcare centers located in the higher-poverty neighborhoods of Lincoln will have their surroundings spruced up – thanks to $250,000 of support approved recently.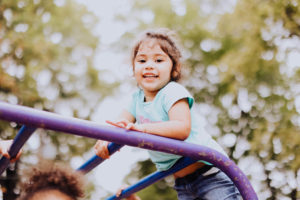 "Childcare providers succeed in providing quality care and education in a wide variety of environments and locations," said Anne Brandt, executive director of Lincoln Littles.  "At the same time, infrastructure and physical surroundings do make a difference."
The $250,000 in funding – recovery money provided by the American Rescue Plan Act (ARPA) – was awarded to provide facility renovations, repair and improvements at local childcare centers located in the lowest income neighborhoods of the community.
COVID has broadened some disparities among childcare centers in Lincoln, Brandt explained, but these funds will help address existing inequities – inequities exacerbated by the pandemic.
"This will be a great boost to our childcare centers in the higher poverty areas," Brandt said, "allowing them to enhance and spruce up their buildings and physical environments – providing money for improvements like new carpeting, paint, flooring and tiles."
In the application to ARPA, Lincoln Littles wrote:
"As childcare financial shocks cause centers to struggle to maintain day-to-day operations, many have faced a need to temporarily decrease attention to infrastructure and quality environments."
"Several studies have shown that environments in early childcare settings can serve as a 'third teacher.' Properly designed environments can support and enhance all areas of children's development and learning, and poorly designed environments can detract from overall development and learning and exacerbate mental and behavioral challenges."
According to an interim study directed by the Nebraska Legislature's Appropriations Committee: 231 licensed providers across the state permanently closed during the pandemic.  Further, a study conducted by Lincoln Littles found that early childcare centers suffered average financial losses of $72,000 in the first year of the pandemic, compounded by an average $6,000 necessary for additional personal protective equipment.
"It's heartbreaking," Brandt said, pointing out that childcare centers have faced multi-layered challenges due to decreased enrollments, health safety concerns and the inability to recruit and retain a quality workforce.
COVID had a disproportionate impact on low-income families and childcare centers, Brandt said, "but this money will help us take a step toward remedying that great divide … When you consider that our children spend much of their day in childcare, these are very important funds."
Over the next month, Lincoln Littles will work quickly to develop and formalize an application process and eligibility guidelines.
The Lincoln Littles application summarized: "Improvements will allow early childcare centers to potentially raise or retain enrollment numbers, and recruit or retain quality staff …  Investment in quality childcare can have long-term mutually beneficial impacts on children and families, the workforce, public resources and the community at large."
Lincoln Littles is a passionate network of advocates focused on ensuring all children have access to quality early childhood care and education.  The organization emerged from the community's Prosper Lincoln initiative, coordinated by the Lincoln Community Foundation.