Let's practice a game of hide and seek: Stay quiet, hush and hide.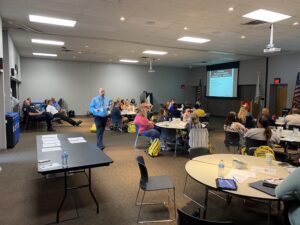 Now, let's pretend we're playing freeze tag, please stay perfectly still and … freeze.
These standard children's games are not just for fun anymore.  Now they have become part of teaching our community's tiniest students how to respond to emergencies.
As tragic school shootings continue to plague our nation, Lincoln Littles helped local childcare programs implement an emergency notification system – the very first in the nation for early childcare, according to Suzanne Schneider, associate director of Lincoln Littles. But when they recognized childcare programs needed a deeper understanding of how to carry out directives, they looked to a community collaboration with the Lincoln-Lancaster County Health Department and Lincoln Public Schools.
As a result, with the help of Lincoln Littles and this partnership, Lincoln's preschoolers are now grasping a more concentrated clarity in learning basic emergency vocabulary and directives.
In fact, LPS started using what is called Standard Response Protocol (SRP) more than a decade ago – providing consistent and clear language and actions among all students, staff and first responders, applied in any emergency: Weather events, fires, intruders and other threats to student safety.
Of course, the protocol had to be tweaked and adapted for early childcare centers, according to two officials from Lincoln Public Schools, Mindy Burbach, director of Communications, and Kyle Poore, coordinator of Security.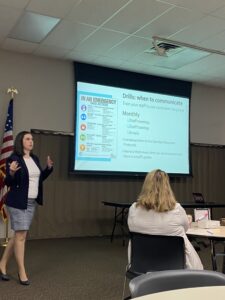 "We needed to ensure they were age-appropriate lessons with clear language for younger children," Burbach explained. "We do not say lock down, for instance, we talk about practicing to play hide-and-go-seek. We do not say hold, we ask them to freeze – like in freeze tag."
The good news for Lincoln's young children today – we are not starting from scratch, Burbach stressed. "We have been teaching SRP to our students for more than a decade, so many of our former students are now parents of preschoolers – so they already know
this language. They learned it when they were in school.  We have many young kids coming to childcare who are already familiar with the emergency vocabulary."
Lincoln Littles first helped initiate early notification systems for childcare centers when they recognized the need for young children to be better prepared for emergencies, Schneider said. But the organization reached out and formed a team of professionals from their own group (Lincoln Littles), childcare centers, the health department, LPD and LPS, she explained, when they came to the realization more was needed.
The collaborative group has already facilitated two workshops for childcare providers – with a third planned in April – and developed a long-term training plan that outlines strategies into the future.
The first workshops were completely voluntary, yet attracted staff from almost 60 local childcare centers, Poore said. "Staff definitely wanted to come, but our town has a very wide variety of centers – from those with three or four kids, to those with hundreds – so we had to develop a plan that reached them all. Each of these centers are so unique."
The solution came in the framework of the sessions: The first hour was spent explaining the protocol, but the second hour featured tabletop exercises that could be tailored to each center.
"And we are definitely focusing on staff right now," Poore said.  "When children are this young, we need staff to understand the procedures – then they practice with and manage the kids."
Now, the next step in bringing SRP to Lincoln's childcare centers is related to messaging, Burbach said, with an April workshop specifically centered on communications. "Now that we are teaching children and staff about emergency protocols, centers need to learn how to effectively communicate with their parents and families,"
Burbach explained that childcare center staff must help their families understand the standard, common language they are using with their children in emergency situations.  "We all need to be on the same page … so centers must understand when it is appropriate to communicate, what to say, and when."
She said the key is keeping it simple – and communicating repeatedly.
"I always suggest communicating often – and starting your communication before a crisis ever happens. We need families to understand what they should expect in an emergency situation at their child's care center."
Next steps include creating a website and social media platforms, distributing videos and posters, and perhaps developing public service announcements.
"We are also currently developing a system to ensure childcare centers have a relocation and reunification plan in the event they need to evacuate their building and reunify children with families," Schneider explained. "There will be a local task force that will activate and provide support in the event these situations occur."
Schneider praised the police department, school district and health department, all critical to development of the emergency notification systems for young ones. "But I am also proud of our work at Lincoln Littles. We are honored to be the organization to support the industry of childcare centers in a unified system."
Poore and Burbach agreed, underlining that the success of the SRP program depends on community collaboration. "We work with our schools, security and local law enforcement, neighborhoods, the health department, and now we are broadening to childcare centers … Everyone is willing to come on board – all in the name of our children's safety."
What is SRP?
The premise of Standard Response Protocol is simple — there are five specific actions that can be performed during an incident: "Secure," "Lockdown," "Evacuate," "Shelter" and "Hold" – each followed by a directive such as: "Get inside."  "Lock outside doors." And more.
What does SRP provide?
For students, this provides continuity of expectations and actions throughout their educational career.
For teachers, this becomes a simpler process to train and drill.
For communities, it leverages the growing adoption of the protocols from residents of all ages.
For first responders, the common vocabulary and protocols establish a greater predictability that persists through the duration of an incident.