*As of August, 2023, Creative Minds located at 5521 Shady Creek Ct (near 56th & Nebraska Pkwy) in Lincoln still has openings. Learn more at https://creativemindsearlylearningcenter.com/
"Play is often talked about as if it were a relief from serious learning. But for children play is serious learning. Play is really the work of childhood."                    – Mr. Fred Rogers
Brandy Trapp opened Creative Minds Early Learning Center this summer as a labor of love – and a deep-rooted belief in letting children play.
"I believe it's so important to let children be little, to allow them to move around and make their own choices, to be surrounded by a sense of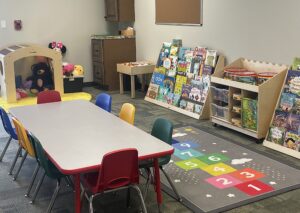 family and love," Trapp says.
That's why Creative Minds – with the capacity of taking 75 preschool-age wee ones – opened in July with lots of open space, play-based learning and mixed age classrooms.
Trapp likes to quote Bev Bos, a prominent advocate for the importance of play: "Children don't learn from their bottoms. They need to move around, problem solve, practice critical thinking and express themselves through dramatic play."
The center's official mission focuses on nurturing, teaching and inspiring kids with child-led learning, Trapp says. "Our goal is to foster trusting relationships between teachers and preschool-age children, encouraging educators to facilitate in-the-moment planning while maintaining consistent boundaries."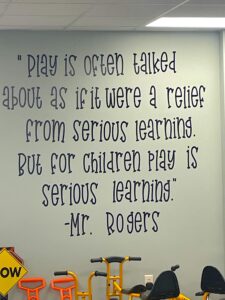 Trapp was born and raised in Lincoln, moved to Arizona in 1997 where she thrived for almost two decades. In November, 2015, however, she delivered her son, a lad she calls her miracle child. "I was a single mom who wanted to raise my son around family, so we came back to Lincoln. But I couldn't help feeling sad when I had to drop him off at daycare every morning."
With a life-long passion for early childhood, she returned to school, graduated this past December – and had the keys to her childcare center by January.
"I knew this was my ultimate career plan and I figured if I don't do it now – if I don't just jump into the fire – I won't ever do it."
She purchased an existing childcare building on a site in southeast Lincoln, gutted the structure and started scraping together funding.  "I would buy things online – for instance, I remember getting used blocks and taking them home, and scrubbing them with vinegar and a Brillo pad."
Trapp obtained a family loan and worked closely with Lincoln Littles to obtain a generous Business and Child Care Partnership Grant from Nebraska Department of Health and Human Services. "I cannot thank Lincoln Littles enough, for financial support as well as emotional support – and plenty of sound advice."
She faced down a variety of challenges along the way with unexpected bureaucratic hoops lurking everywhere. "There were times when I woke up in the morning and thought, what will go wrong today? This has been the wildest journey … with lots of stop signs."
But the green light shone when her doors opened in July – and she started focusing on her next challenge: Spreading the word about her center and filling up to full capacity. "I want people to understand this is something of a non-traditional childcare center that concentrates on nurturing and supporting preschool age children, not babysitting them," she said.
Trapp describes Creative Minds as a space with wide-open learning centers.  Her website explains: "We have a significant creative and visual arts area, a sensory area, and a dramatic playroom where children can enter a tiny world, just like adults but learning life skills through play. We have an extensive area for mathematics, manipulative, blocks, building, games and play to ensure children thrive in every curriculum area and developmental domain while gaining independence and learning various play styles. We also have a space for cooking classes and other life skills courses."
Trapp says she is guided by a few major principles:
Children learn through play, so let them choose. "We don't do worksheets or workbooks or flashcards. Kids don't sit in a room all day. We let them make decisions, we invite them into play."
Children are not divided into groups according to age, but there are mixes of 3-, 4- and 5-year-olds. "We find that threes learn from fours and fives, and fours and fives become teachers for the youngest kids."
The center features very little screen time, instead utilizing what they call an interactive beam that features hands-on technology as opposed to passive technology.
"I should also stress that we have the best team of teachers here, everyone supports everyone else. And there is no 'Boss Brandy". I'm part of the support staff, because I need to be out on the floor working with my team and playing with the kids."
Trapp's ultimate priority is her son, now a first grader at Rousseau Elementary School. "I want to be successful for him. I don't want to let him down. I'm a single mom who doesn't want to be rich, but who wants to take care of her son and make sure he lives his childhood to the fullest."
After all, she adds, "Childhood is the very best part of life."