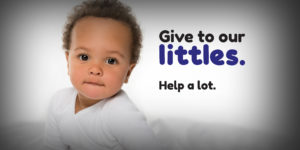 February is a time for hearts and roses, but also a time to consider heart-felt donations for our community's tiniest citizens by contributing to the fourth annual Lincoln Littles Giving Day: Wednesday, Feb. 9, 2022.
"Supporting our youngest community members with an opportunity to have high-quality education and childcare strengthens the fabric of our community," says Anne Brandt, executive director of Lincoln Littles.
A child's early years are the foundation for his or her future development, providing a strong base for lifelong learning and learning abilities, including cognitive and social development. Well-established research continues to emphasize the importance of early childhood education as an essential building block of a child's future success.
"But the ability to have quality childcare should not be based on money, it should be based on public good and made available to all families," according to Brandt.
The fourth annual Lincoln Littles Giving Day – always close to Abraham Lincoln's birthday – raises funds for children from working families facing the greatest financial need.
Giving is easy: Donations may be made online to LincolnLittles.org from now through midnight on Wednesday, Feb. 9 – as well as mailed or delivered to the Lincoln Community Foundation, 215 Centennial Mall South, Lincoln, NE 68508. Checks must be written to "Lincoln Community Foundation" with "Lincoln Littles" written in the memo line.
Lincoln Littles Giving Day donations go directly to families, providing tuition assistance for children from lower-income families to attend quality early childhood education programs.  And this year they have broadened eligibility requirements to include even more families.
Suzanne Schneider, Associate Director for Lincoln Littles, puts in this way: "Our work is focused on removing financial barriers, so all kids have the opportunity for a fair start in school."
A few essential numbers to remember as you consider giving to this critical cause:
In Lincoln, 25 percent of children five and younger live in households that fall below the poverty threshold.
Only 9 percent of young children in poverty are enrolled in early childhood education.
About 75 percent of children in Lincoln have both parents in the workforce, and parents at every income level report expense as the biggest challenge to accessing high-quality care in Lincoln.
In fact, it costs more per year to send an infant or toddler to a childcare center than one year of tuition at the University of Nebraska.
** This special giving day is a project of the Lincoln Community Foundation and Nebraska Children and Families – and emerged from the Prosper Lincoln agenda that identified early childhood as one of the top community priorities.