The Junior League of Lincoln (JLL) and Lincoln Littles have partnered to provide diapers for children receiving care through one of Lincoln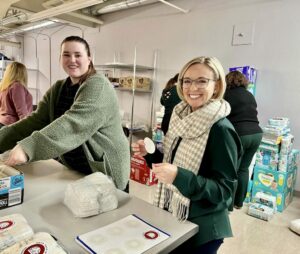 Littles' 28 qualified child care providers. JLL fundraises, collects and packages diapers for families in need and the recent partnership ensures that families won't have to keep their child home from child care due to a lack of diapers.
According to the National Diaper Bank Network, 1 in 3 American families with small children reports experiencing diaper need. Despite the apparent need, there are no federal or state safety-net programs that provide funding specifically for the purchase of diapers. SNAP and WIC assistance cannot be used to purchase diapers.
"Junior League understands the child care crisis currently facing Lincoln," said Anne Brandt, Executive Director of Lincoln Littles. "Families already struggle to cover the cost of child care and by reducing the worry over diaper need, this partnership will give families a little peace of mind."
"The Junior League of Lincoln and Lincoln Littles are grateful to NEBCO employees for providing the first allotment of diapers to families," said Kari Schmidt, Diaper Bank Chair, Junior League. NEBCO's recent company-wide diaper drive resulted in the collection of more than 5,000 diapers and wipes to be distributed to families in need through their child care provider.
JLL is hosting a diaper drive February 1-15, 2023. For more information, please visit jll.org or email jlldiaperbank@gmail.com. To donate to the Junior League of Lincoln or any of its community projects, please visit jll.org.
Lincoln Littles is raising funds for child care tuition assistance and other projects through its annual giving campaign during the month of February. Donate at LincolnLittles.com.