Efforts in Lincoln helped the We Care for Kids/Por todos los niños campaign reach more than 100,000 people across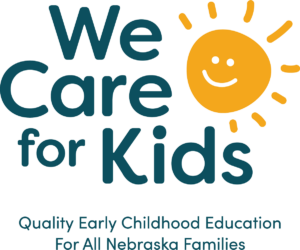 Nebraska in the first year. Launched on June 15, 2022, the campaign has helped build support for quality child care and early learning in the state.
Lincoln Littles is a partner of We Care for Kids. The campaign has helped raise awareness through consistent messaging in areas smaller organizations would have difficulty.  In addition, Lincoln Littles was awarded a We Care for Kids community engagement stipend, which provided the opportunity to create informational packets for area pediatricians and obstetricians to learn how Lincoln Littles can be of assistance to families.  In addition, Lincoln Littles created a community exhibit at Innovation Campus about the importance of early childhood and local work happening to improve systems.
Similar outreach is happening in communities across Nebraska and at statewide events like live-streamed, telephone town halls and the Nebraska State Fair. More than 60 organizations have joined as campaign partners. The website has many resources in English and Spanish and is engaging thousands of Nebraskans every month.
Nebraskans want to see action on the issue. A recent survey conducted by Nebraska Extension and We Care for Kids found that more than 80% of Nebraska voters say the lack of child care in Nebraska is a problem that will not solve itself, want Nebraskans to come together to solve the problem, and believe Nebraska should support child care and early learning like it does K-12 schools and higher education.
Access to affordable, quality early childhood care and education supports young children's healthy development and learning, helps workers provide for their families, and keeps businesses strong. Nearly three-fourths of Nebraska children under the age of six live in homes where all adults work. Eleven Nebraska counties have no licensed child care at all and 91% of the counties with licensed child care providers don't have enough availability to meet demand.
In Lincoln, We Care for Kids has provided much-needed resources to child care and early learning champions like Lincoln Littles.  "Kara Ficke leads We Care for Kids and is a great partner to Lincoln Littles," says Anne Brandt, Executive Director. "We Care for Kids provided funding for interpreters at the Family Fair we hosted in February enabling families to engage in activities provided and receive information in their home language about important resources."
We Care for Kids encourages all Nebraskans to visit NebraskaCaresforKids.org to learn more and sign up to join the campaign. The website features a community toolkit with resources and templates that anyone can use to help encourage awareness of the need in their own communities. Information and materials are available in Spanish at PorTodosLosNinos.org.