Lincoln Littles Giving Day is like one big hug from the community – with citizens wrapping their arms around childcare providers and their families.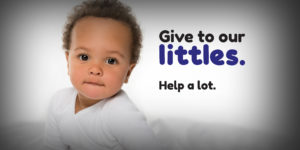 The fourth annual Lincoln Littles Giving Day is Wednesday, Feb. 9, and local childcare providers underline what a significant difference a donation can make in a child's life.
Teri Beem, director, St. Mark's Preschool/KIDZONE Inc.: "Lincoln Littles Giving Day is like a big hug from our community – acknowledging the importance of high-quality early childhood education and care, while making it accessible to all children.  It feels wonderful to help families and children engage in something so important. Our childcare center is proud and thankful to participate in Lincoln Littles."
Mikayla Higgins, interim director, Early Childhood, Trinity Lutheran School: "Early childhood years are some of the most important when it comes to children and their development. When you donate to Lincoln Littles, you not only support our community but also create equal opportunities that will help guide these children to a bright future.  Lincoln Littles Giving Day is a chance to make a big difference in a child's life. That is priceless."
Kayla Johnson, assistant director, Kids First Inc.: "For Kids First, the meaning of Lincoln Littles Day can be summed up in one word:  Hope. We can offer hope that families in our community are able to find a childcare center that is rich in quality and care. We can offer hope that our families will have peace of mind in knowing their children are being loved and well cared for – so they are able to work and support their family."
Amanda Nielsen, program director, Northbridge Early Childhood Development Center: "Lincoln Littles Giving Day means so much to our center, but also to families and early childhood providers throughout the Lincoln community. Lincoln Littles Giving Day allows citizens to help our youngest Lincoln community members receive a quality early childhood education in a safe and nurturing environment – and ensure families can feel confident they are doing what is best for their young child."
Michelle Zimmer, education program director, Dimensions Educational Research Foundation: "Lincoln Littles is the collective voice for many early childcare providers, as we are all working together to support children and families. The Lincoln Little's Giving Day helps to provide funds that will help families who struggle to pay for quality childcare. We are fortunate to live in a community that supports early childhood education and understands there is a great need right here in our own back yard."
Chris Bruner, program director, The Children's Place Child Care Center: "In my 40 years of working in childcare I've seen thousands of children and families walk in and out my door: Families who are struggling with keeping a job, overcoming an addiction, facing eviction, paying bills to keep the heat on … families who are sometimes forced to make hard choices about cost and quality of childcare … but families who also understand that childcare is not only about someone 'watching' their child, but about ensuring their child is safe, comfortable and loved. Lincoln Littles has been a blessing in helping maintain quality care for our children."
Quick facts about Lincoln Littles Giving Day:
Donations may be made online to LincolnLittles.org from now through midnight on Wednesday, Feb. 9 – as well as mailed to the Lincoln Community Foundation, 215 Centennial Mall South, Lincoln, NE 68508. Checks must be written to "Lincoln Community Foundation" with "Lincoln Littles" written in the memo line.
Giving Day raises funds for children from working families who are facing the greatest financial need.  Donations go directly to families, providing tuition assistance for children from lower-income families to attend quality early childhood education programs.  
This special giving day is a project of the Lincoln Community Foundation and Nebraska Children and Families – and emerged from the Prosper Lincoln agenda that identified early childhood as one of the top community priorities.