No, there's no place like home, but The Children's Place Child Care Center – in business now for half a century in Lincoln – aspires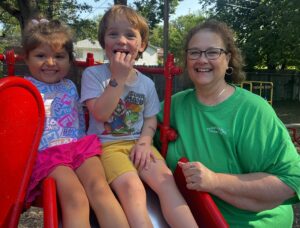 to come close.
"We want kids to feel like they are at home," says Chris Bruner, director of The Children's Place for more than 40 of those 50 years.
At some point in the past decades, the childcare center did change names.  But everything else remains familiar and steady.  The location in northeast Lincoln near 40th & Vine remains the same. The basics remain the same; a place for about 60 children, ages 18 months to 12 years old.  The love and laughter remain the same.
"Children's laughter never changes. You hear kids laugh and you can't help but have your heart warmed," Bruner says. "You hear kids laugh and you know they are having a good time, you know they are learning, you know they are well cared for."
Bruner says people often ask her why she stays. She says, "It's mostly for the love of kids. But the president, Kathy Paisley, is also terrific. We've had the greatest relationship for all those years."
And there's more.
"Our staff is so great, as well as their longevity," Bruner says.  "There is a core group of people who came here and have stayed. We truly try and pay them as much as possible, but we also work hard to make sure everyone is happy in their work. The interactions between staff and children is just priceless."
Bruner remembers back to when she was only 19 years old, a young college student from Bayard, Nebraska, passing by the Lincoln childcare center and wandering inside for a possible job.
"I filled out an application and went home for the holidays, uncertain whether I would even come back to Lincoln. And then it happened.  I got the call and they had a job opening for me. I think I was the youngest employee they had ever hired."
She has never left.
Bruner married, had a child, eventually was named assistant director and, finally, director.
"I think it was because I was willing to help with anything they needed. I was willing to help employees with clocking in and out – with hiring – with meetings – with budgets and childcare subsidies.  I filled in with whatever needed to be done, and I found I actually liked the business aspect of the job as well as the children."
But the "business" of childcare has definitely changed over the years, Bruner says – with both joys and difficulties.
"I would say the pandemic made a real difference in recognizing that childcare workers are professionals, not just babysitters.  Suddenly we were heroes.  If childcare was closed – if there was no place to take kids – then nobody else could go to work. It was like the trickle-down effect. And I think the public listened. It was a nice moment, quite a morale booster in a really bad time."
At the same time, she continues, challenges abound.
Staffing has become increasingly tough, as childcare centers struggle to pay high enough wages, she says. "Once upon a time I had college students knocking on my door, asking for applications. But I can't tell you the last time we had somebody contact us for a job. We are out there advertising all the time and still have trouble getting young employees."
At the same time, she stresses, "We can't keep raising childcare costs, because families cannot keep up. It's so frustrating sometimes."
She is grateful to Lincoln Littles for helping The Children's Place continue to provide excellence in childcare service through the Step Up to Quality Initiative (The Children's Place is rated Step 4 – Exceeds Quality Standards – out of 5) – as well as for providing assistance to families in need.
"Lincoln Littles has been a lifesaver for us," Bruner says, "facilitating childcare subsidies for families who have fallen through the cracks."
Anne Brandt, executive director of Lincoln Littles, believes their support has paid off. "Chris's commitment to the early childhood field is truly admirable. Her attention to providing a quality experience for children and families is impressive and shows why staff stay and former students want to work at The Children's Place."
Bruner believes childcare centers endure thanks to dedication to families, noting they have several third-generation children with parents who say they wouldn't take their children any other place.
"How and why have we survived for 50 years? Great leadership, great management, great staff relationships," says Bruner. "But bottom line, we try and remember that we are here for the kids. There is probably no greater reward than when children who were here at a very young age, and who have grown up, come knocking on your door to say hi – and tell you how much they loved it here."