Early childhood care and education are good for business.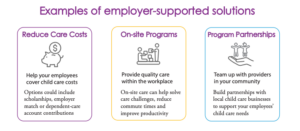 That's what the Lincoln Littles organization has been telling local business and industry for years now.
"One of the early tenets for Lincoln Littles was not only promoting quality early childcare in our community, but getting business onboard," said Anne Brandt, executive director of Lincoln Littles.
Skilled workers value workplaces that understand their childcare needs – but quality childcare is good for workers and their families, as well as for a business, Brandt explained.  "The truth is, family-friendly benefits promote productivity for the company, help retain top talent, and enhance recruiting new workers."
But Lincoln Littles recently determined they could broaden their scope in business initiatives with more comprehensive community cooperation – and contacting First Five Nebraska "seemed like a wise and natural partnership," Brandt said.
Mike Feeken, advisor for First Five's Strategic Partnerships, agreed.
"When you look at workers who are 18-35 years old, childcare has to be part of what you offer," Feeken said.  "We can clearly recognize how childcare options help a business with recruitment and retention … But we need to help businesses understand not only why it matters, but recognize all their options and visualize what they can be doing."
Feeken said he believes many local businesses are very interested in supporting their employee's childcare needs, but don't know where to begin.
The Lincoln Littles/First Five partnership is a powerful step in strengthening the ability to talk with and help businesses get started, Feeken continued. "Each of us brings our own area of expertise to the table."
Lincoln Littles is a passionate network of advocates focused on ensuring access to quality early childhood care and education – with extensive experience in employee engagement and far-reaching connections in Lincoln.
First Five Nebraska is a statewide public policy organization – with experience in policy, economics and business – and has long served as a leader in representing early childcare and learning as an integral component of economic development.
Lincoln Littles and First Five agree that the Lincoln community has come far in basic awareness, understanding the value of early childcare, Feeken said.  "I think we have made great strides in awareness about the importance of childcare to employees and to the health of Nebraska's economy."
Lincoln Littles indeed helped plant so many seeds – seeds that led to a growing awareness of the importance of childcare to local business, Brandt said.
And, believe it or not, the pandemic helped with that awareness.
"It was like one huge and unexpected wakeup call," she said.  "The pandemic illuminated the need for childcare and aimed a spotlight on why this matters … that to keep the wheels on local businesses and organizations you must have childcare."
Brandt noted that though both Lincoln Littles and First Five celebrate that change in awareness, they also believe they are not moving the needle fast enough. "We needed additional support when moving to the next steps, and this partnership makes more things possible."
In fact, she said, the shared goals of Lincoln Littles, First Five, local business, local childcare providers – are all woven together.
"We know we have challenges in actual implementation," Feeken continued.  "We need to help businesses recognize the positive, long-term implications of offering quality childcare to their employees – to educate them in the possible cost benefits and return on their investment – to guide them in jumping through all the necessary hoops."
Currently the new partnership is talking with Human Resources departments, giving community presentations, speaking with organizations such as the Chamber of Commerce.
Their brochures read: "Connect with us … Let us help you connect with employee needs … discover a variety of options and implement early childhood solutions that fit your business and employee needs."
The collaborative enterprise can support local businesses in a variety of ways:
Connect: The team will assist businesses in connecting with employees to understand their unique early childhood needs, collecting survey data with necessary information like: How many employees do you have with children 5 and under?
Discover: The team will help businesses explore their various options for supporting working families and determine what is right for their company – from onsite centers to family-friendly policies.
Implement: The team will help support businesses in implementing the initiatives that best fit their needs with the understanding that programs will not all look alike.
"I think it's important to understand there is a wide variety of possibilities and this will not look the same at every business," Brandt said.
On-site childcare programs may serve as the gold standard, she explained, but businesses have many alternative strategies that include employee-matched scholarships, dependent-care account contributions, teaming up with local providers in the community to support employee childcare needs.
"I think businesses understand that this new generation of employees will be looking for a family-friendly environment," Feeken said.  "We just need to help businesses find a way to get there."
To learn low-cost or no-cost ways to support child care in your community, read this document created by First Five Nebraska.
Learn about Lincoln Littles' and First Five Nebraska's employer-supported solutions.